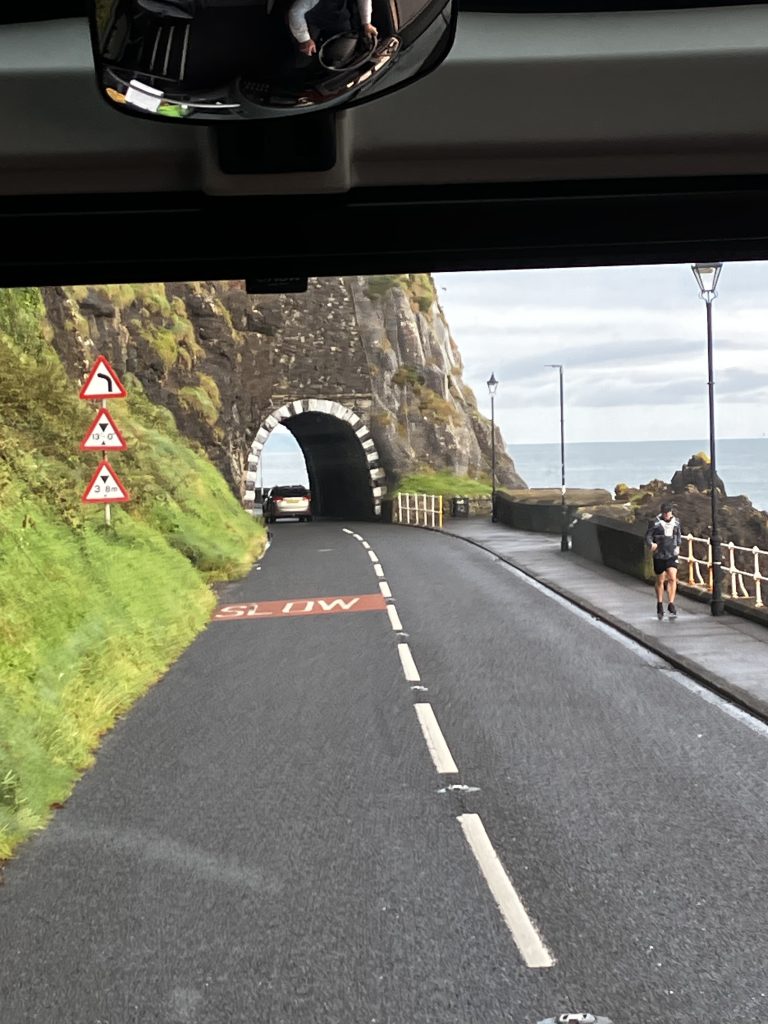 Today we were driving along the coast towards the oldest licensed whiskey maker in Ireland. I sit up near the front of the bus, so I get to see things like this tunnel before the rest of the bus.
Ireland is pretty lucky in that it has very docile fauna. As Ben, our bus driver put it, "You can pitch a tent at night. Nothing will sting, bite, or try to kill you. The only thing that might happen is that a cow might get the tent flap open and lick your toes."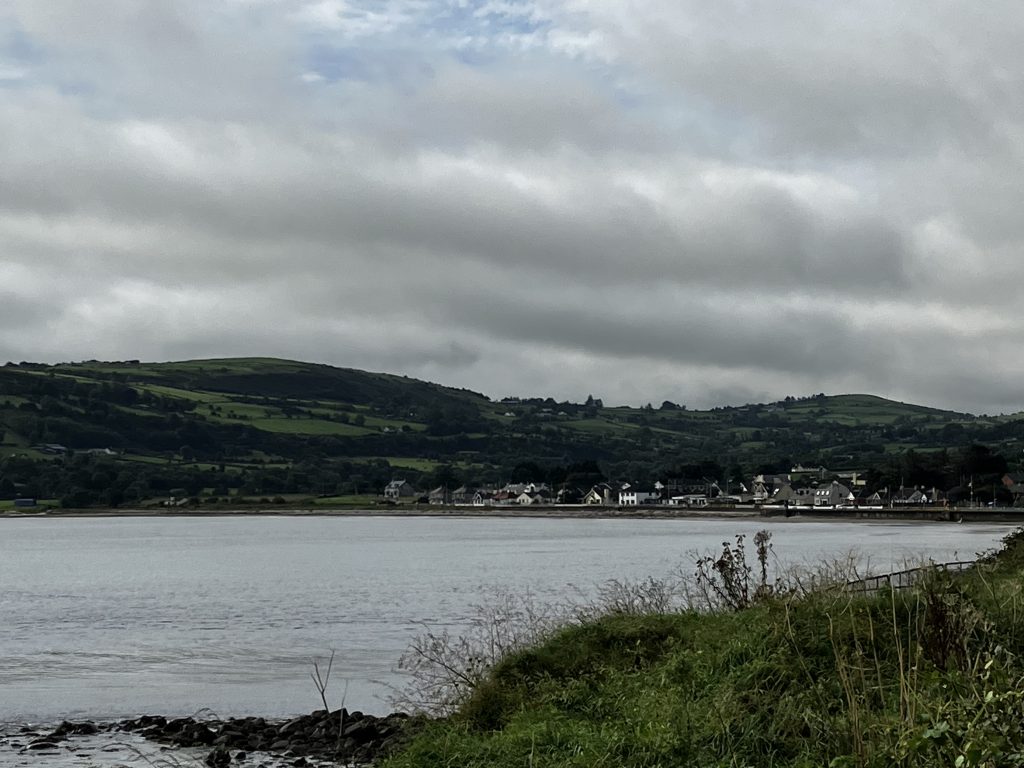 We saw many beautiful little fishing villages.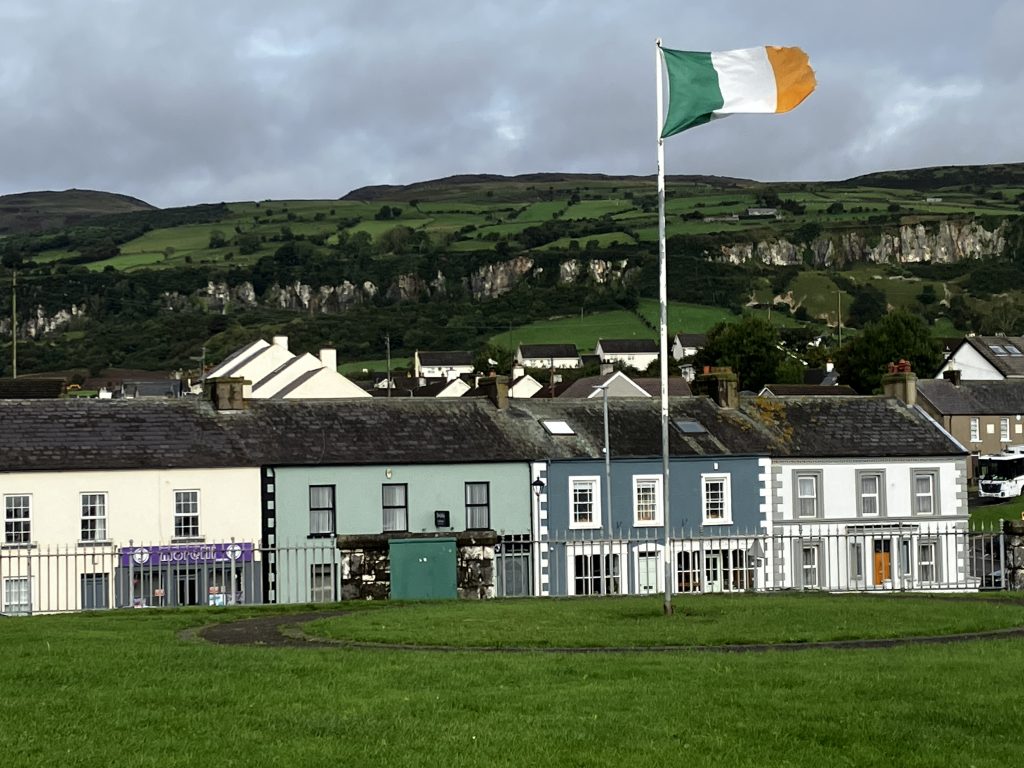 We were given 20 minutes to gallop around Camlough village.
"Hang on, " said Doug, an enormously tall American with a wife of exactly the correct height for a human. (In other words, Cindy is around my height.). "Aren't we still in Northern Ireland? Why is an Irish flag flying?"
"Maybe there's a rebel living here who sneaks out in the dead of night to make a point?" I said.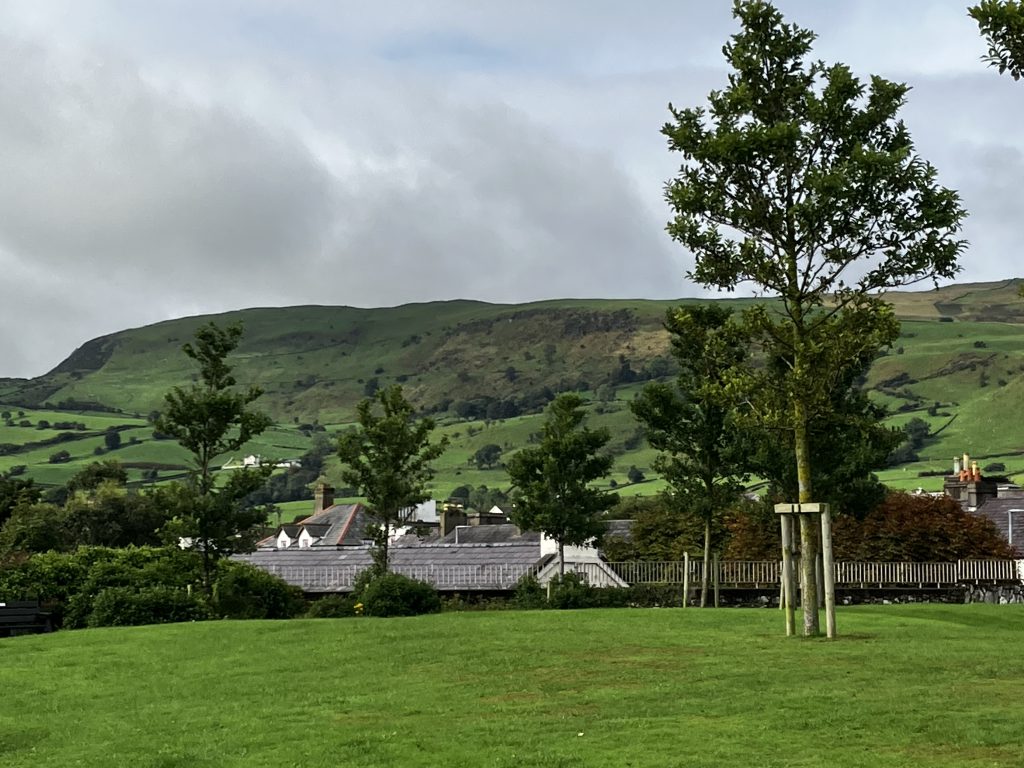 I know I've said this before, but this vivid green is not photoshopped. (Anyway, even if I wanted to, I don't know how.)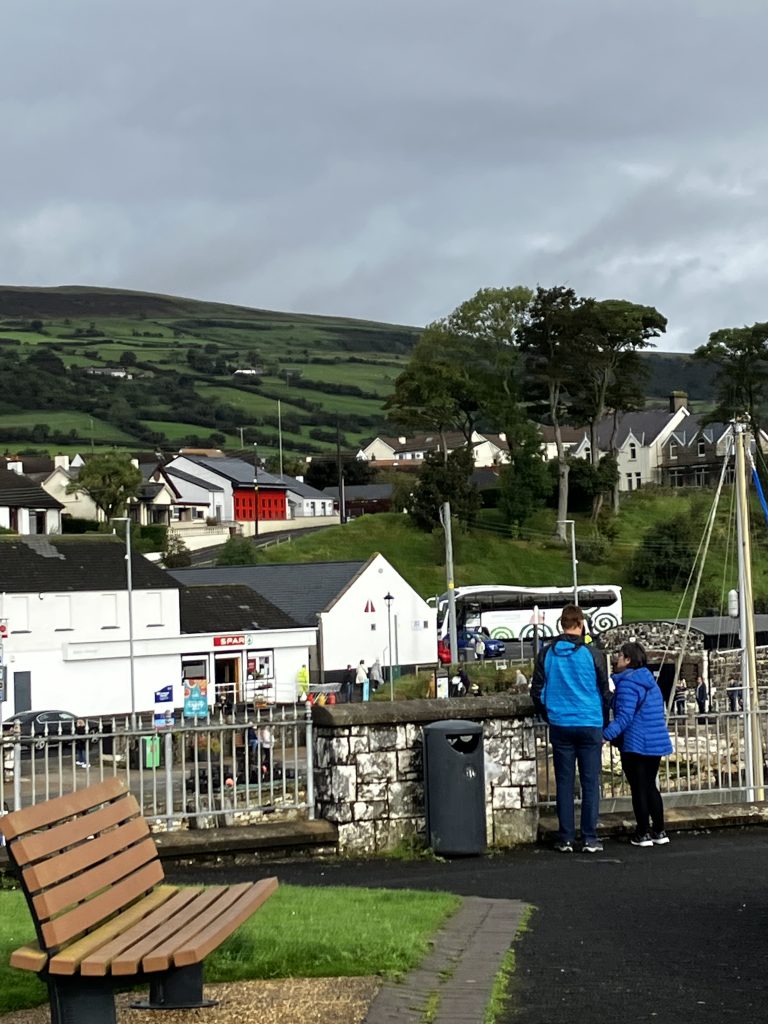 There's Doug and his lovely wife Cindy, balancing out this shot with a pop of blue.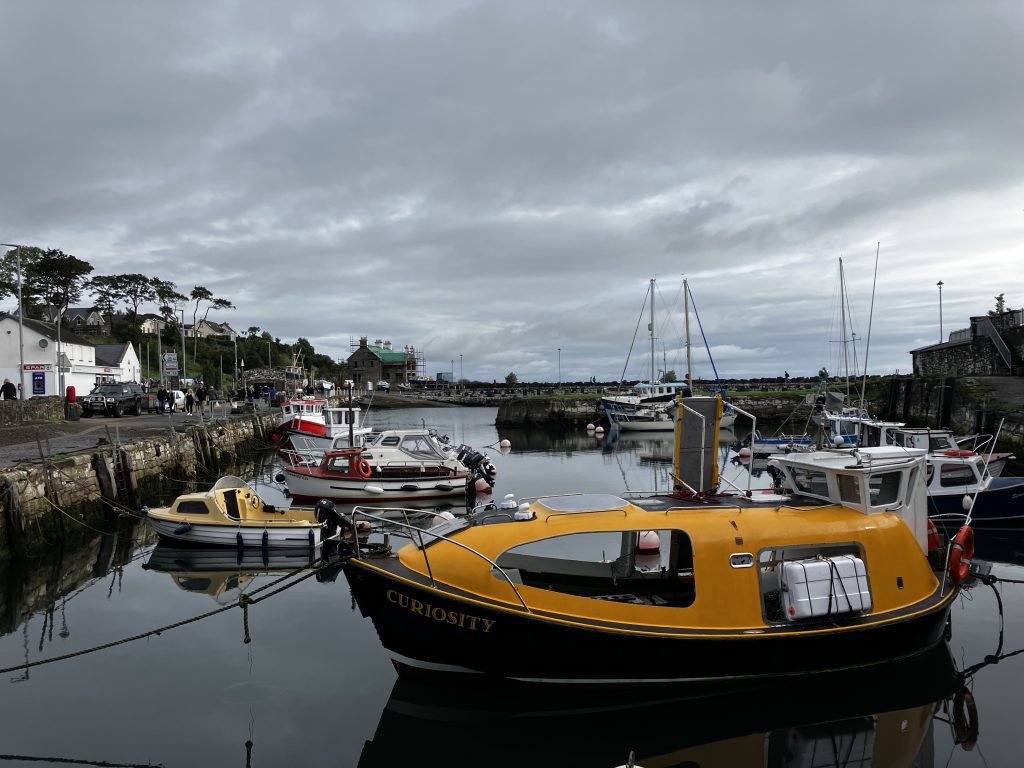 Such a pretty place, which looks out over the Irish Sea with a smudge of Scotland over the water.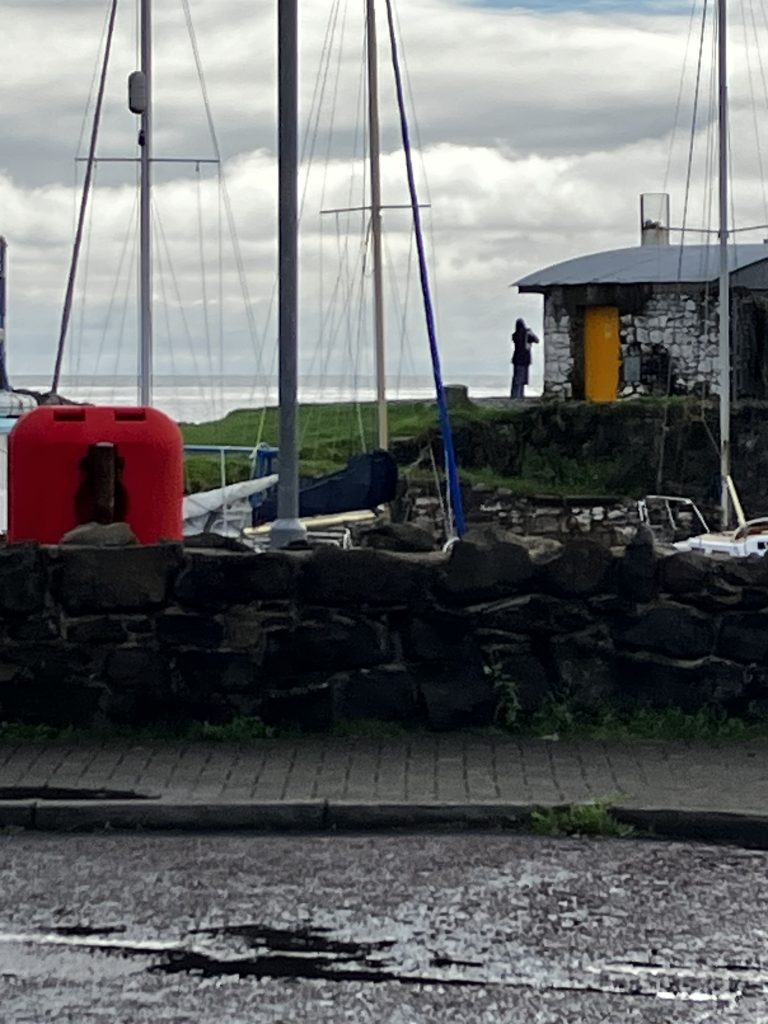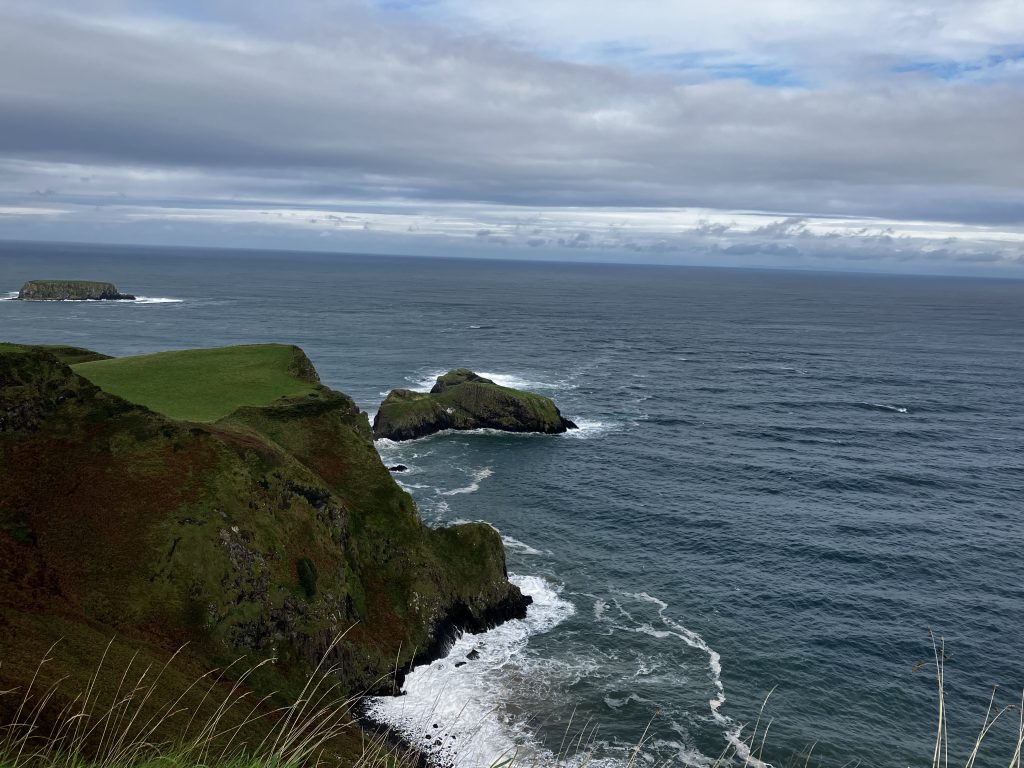 We had a brief stop at this pretty litter place.
Portaneevey. If you look closely, you can see a top bridge between the mainland and the island. Hang on, I'll zoom in for you.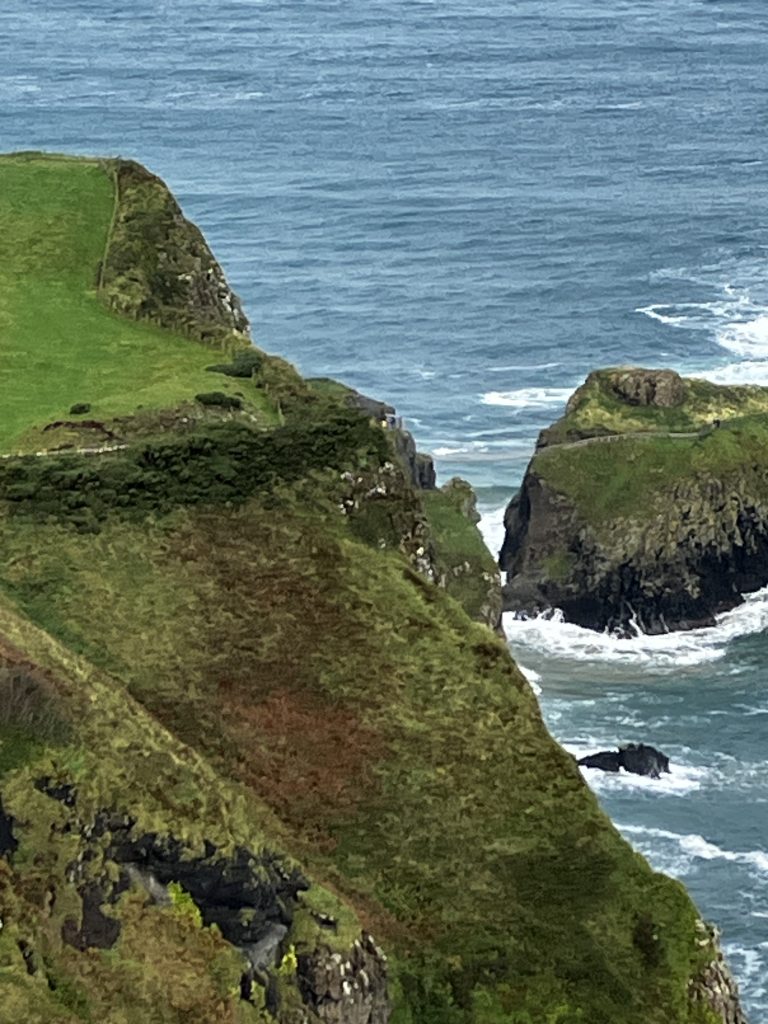 See it now?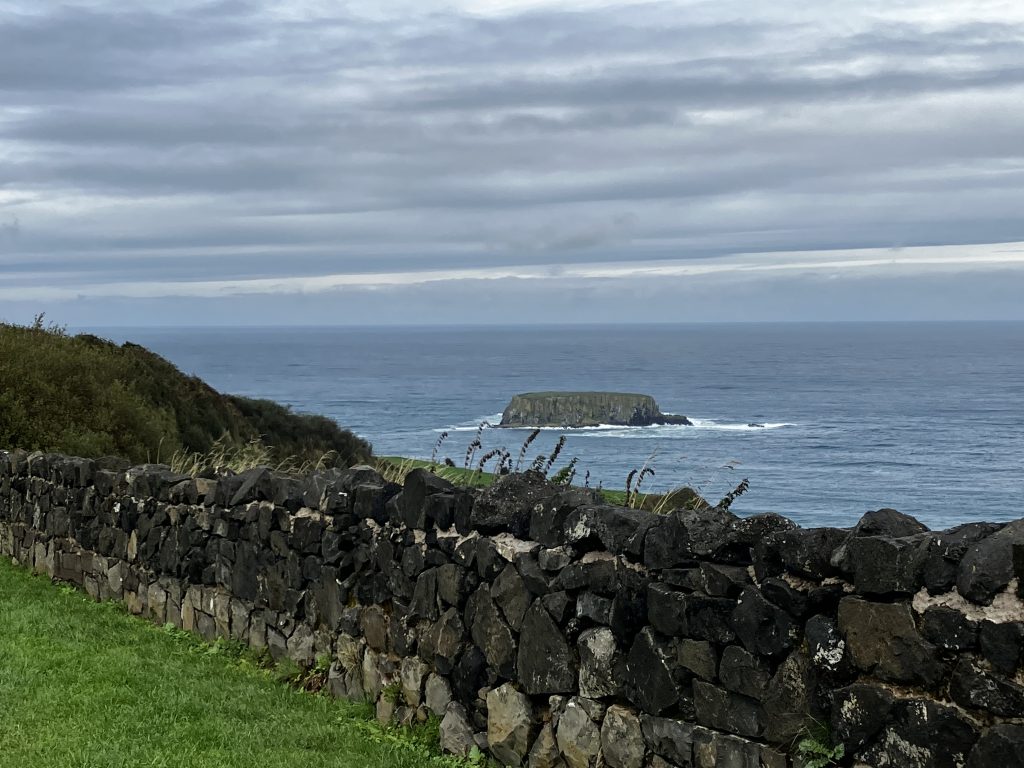 I just liked this shot.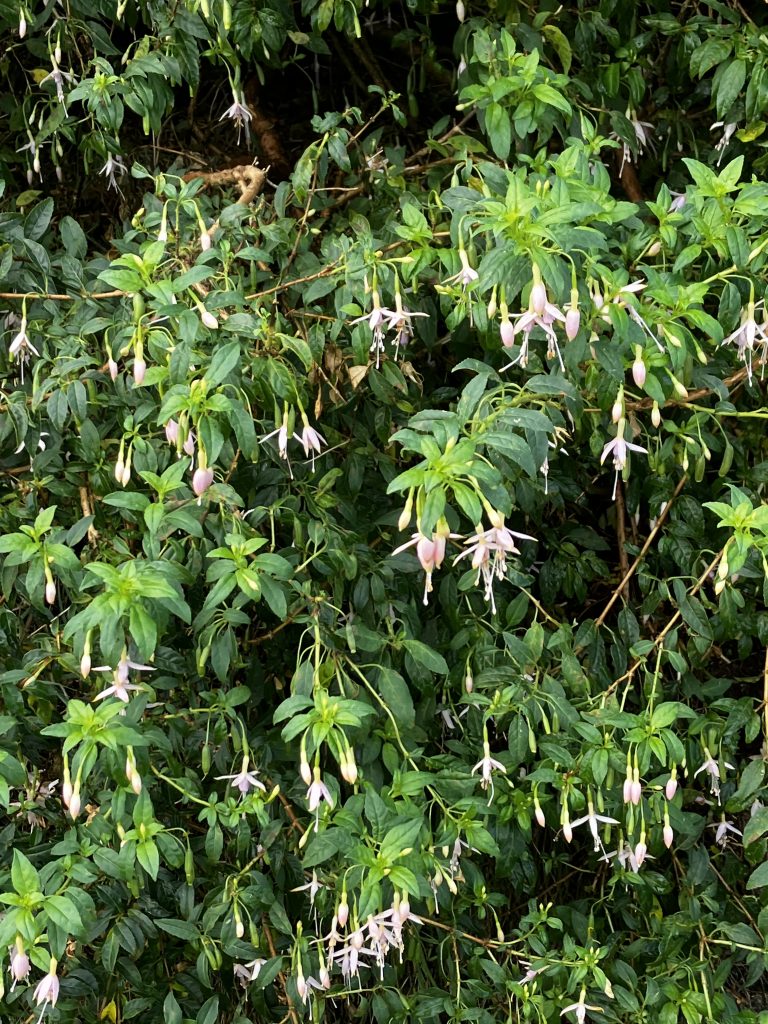 There are huge hedges of fuchsias along the roads. Normally they're red and purple, but these pale pink ones were at the car park here.
Before I had kids, I owned a collection of different fuchsias, around 24 of them if memory serves . Maybe I should buy another one.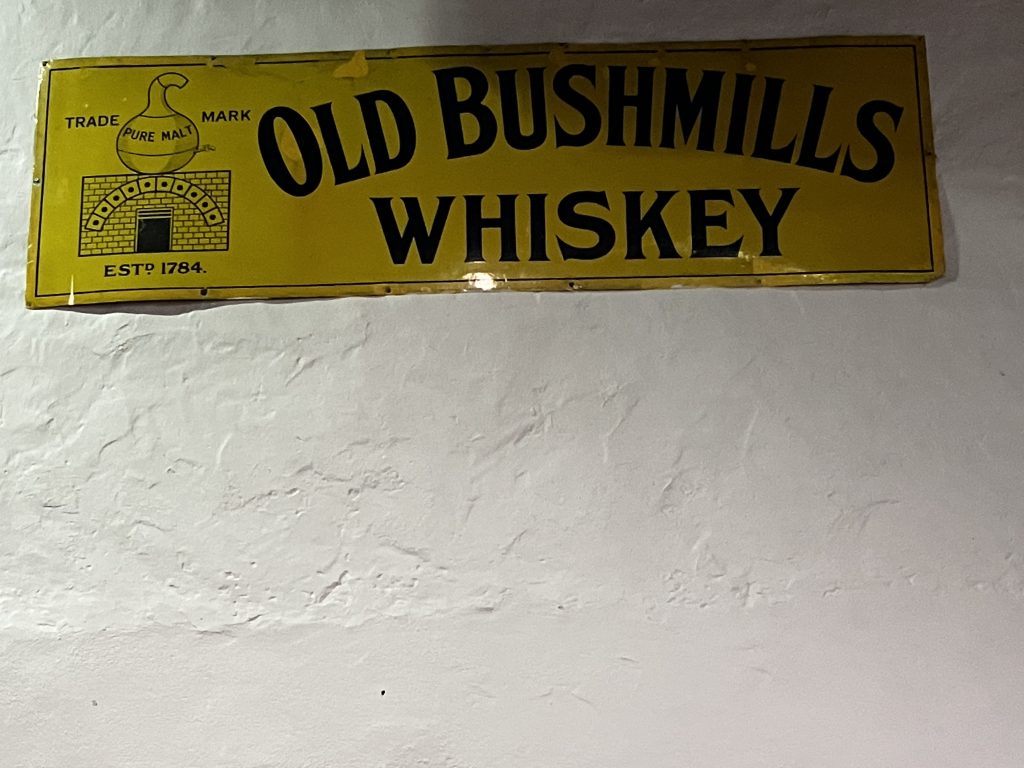 We arrived at Bushmills whiskey distillery bang on 12, and in we went. I wasn't expecting much from this tour, ( but was looking forward to taste-testing the end product) but it was actually really interesting.
They asked us not to take photos during the tour, but the big bonus for us was that we had to miss one of the steps to make whiskey, because they were cleaning out the vats or something, so we got a tiny bottle of the good stuff to keep. I was happy with that.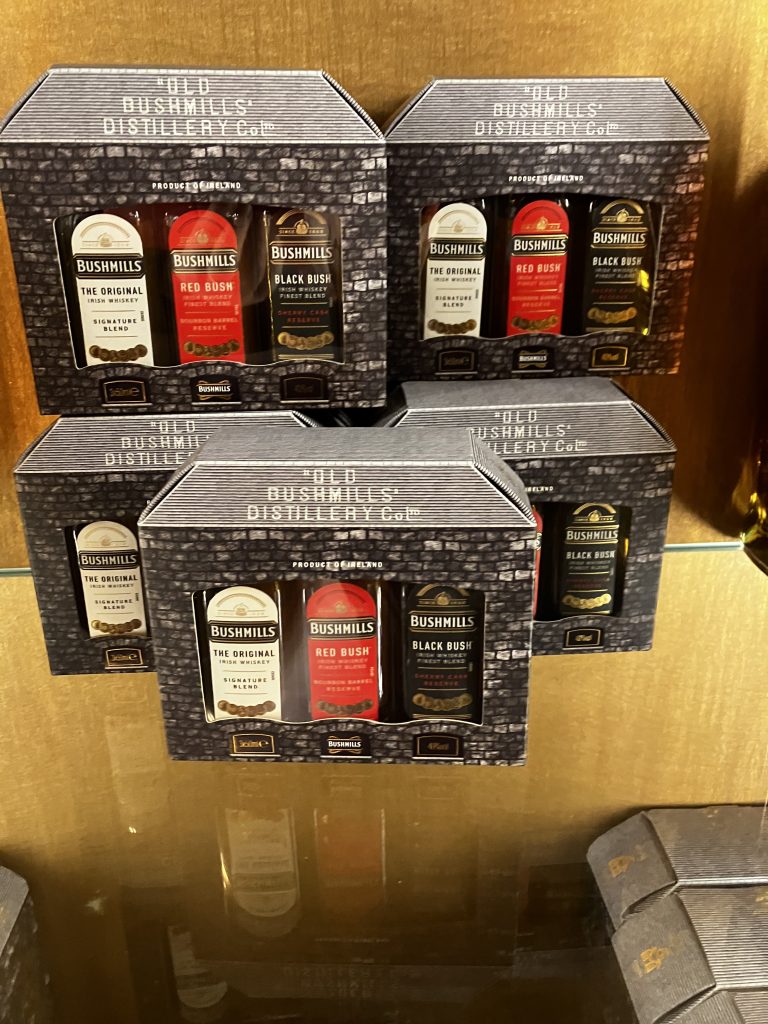 This is from the gift shop.
For the first time, I was glad that I was in a tour with people who don't drink. I had 3 different whiskeys to try… their common run of the mill one that they recommend that you buy if you're going to add Coke to it; their bourbon oak barrel infused one which was nicer; and their 12 year old one which was as smooth as a baby's bottom.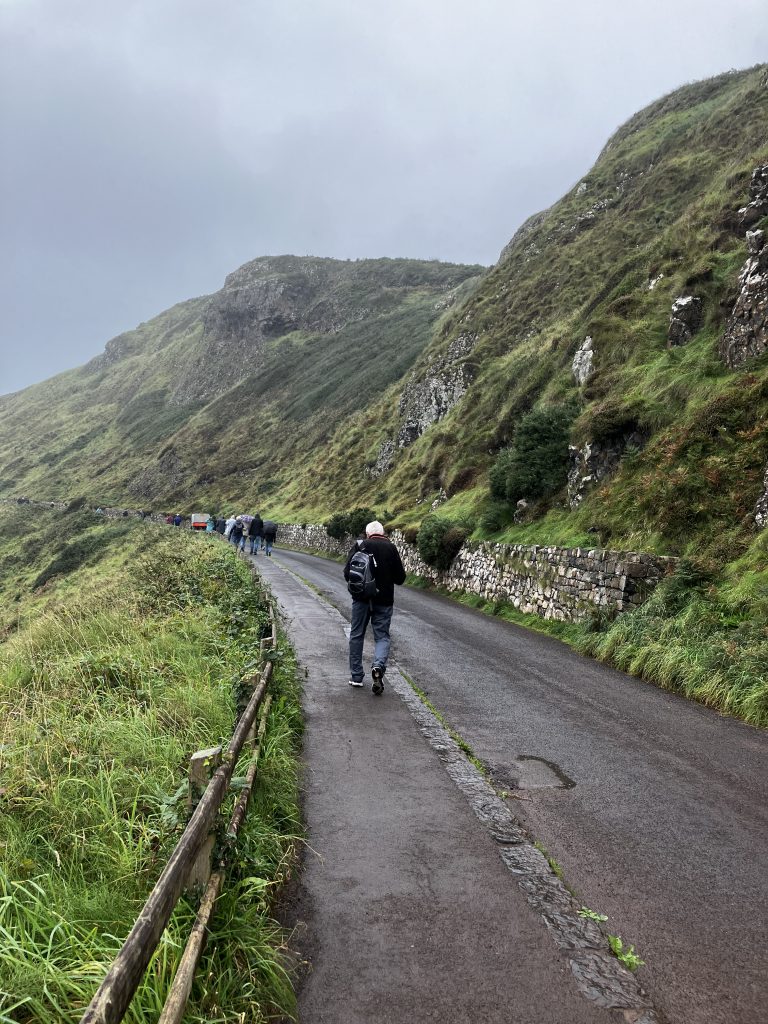 Then it was onwards towards The Giant's Causeway, without lunch.
The weather had turned against us and it was raining. It wasn't a harsh rain, but it was persistent. When the guide from the causeway said there was a bus to take people there and back and that it was FREE for National Trust members, I gave a cheer. That's another £1.30 I can take off the cost of my National Trust membership. ( Believe me, I'm keeping track!)
Even though it was raining, of course I was going to walk down the track to the causeway. What's the point if you don't?
Walking back up the hill is obviously another issue entirely.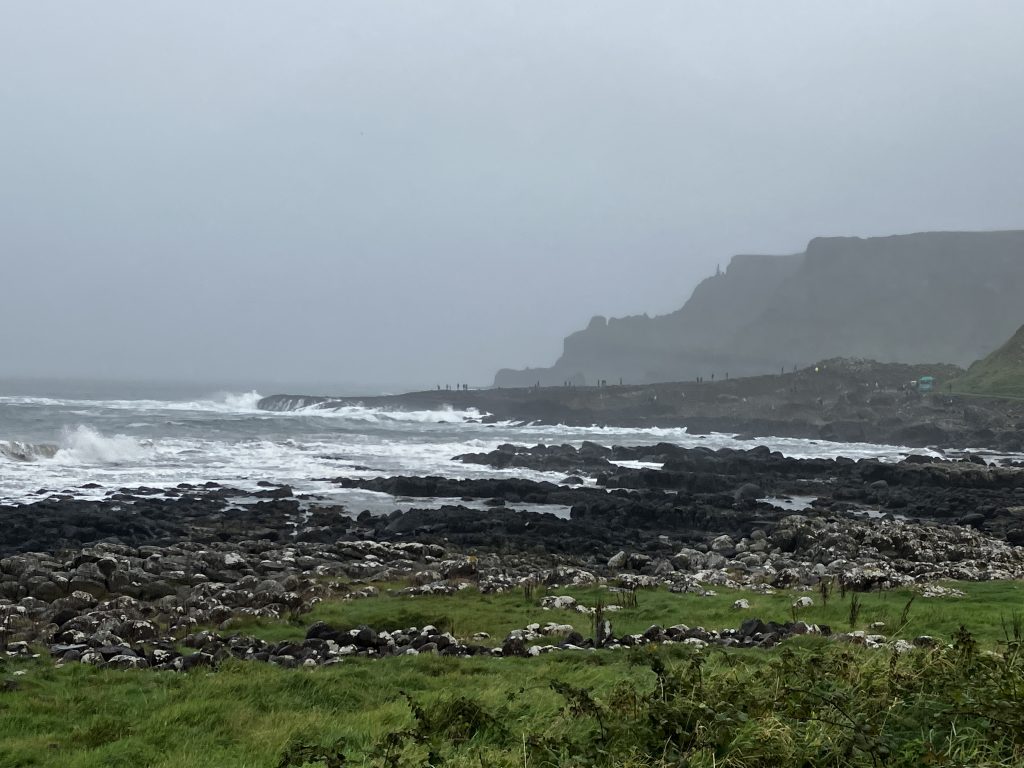 Here's the legend of the Giant's Causeway:
The Myth
As legend has it, Northern Ireland was once home to a giant named Finn McCool (also called Fionn Mac Cumhaill). When another giant – Benandonner, across the Irish Sea in Scotland – threatened Ireland, Finn retaliated by tearing up great chunks of the Antrim coastline and hurling them into the sea. The newly-created path – the Giant's Causeway – paved a route over the sea for Finn to reach Benandonner.
However, this turns out to be a bad idea as Benandonner is a massive giant, much bigger than Finn! In order to save himself, Finn retreats to Ireland and is disguised as a baby by his quick-thinking wife. When Benandonner arrives, he sees Finn disguised as a baby and realises that if a mere baby is that big, the father must be far larger than Benandonner himself!
Following this realisation, Benandonner rushes back to Scotland, tearing away as much of the Causeway as he can in his haste to put as much distance between Ireland and himself as possible. And thus, the myth of the Giant's Causeway was born.
Perhaps a less interesting explanation, the scientific approach dictates that the Giant's Causeway was first formed over 60 million years ago. The science says that the Causeway was created following a period of volcanic activity, where the lava cooled and formed these incredible interlocking basalt columns. Each column is near-perfectly hexagonal in shape; a lasting reminder of the power of the world's natural beauty.
No matter which explanation you choose to believe, it's undeniable that the Giant's Causeway is a truly awe-inspiring natural wonder of the world.
(I didn't write that explanation. I googled it.)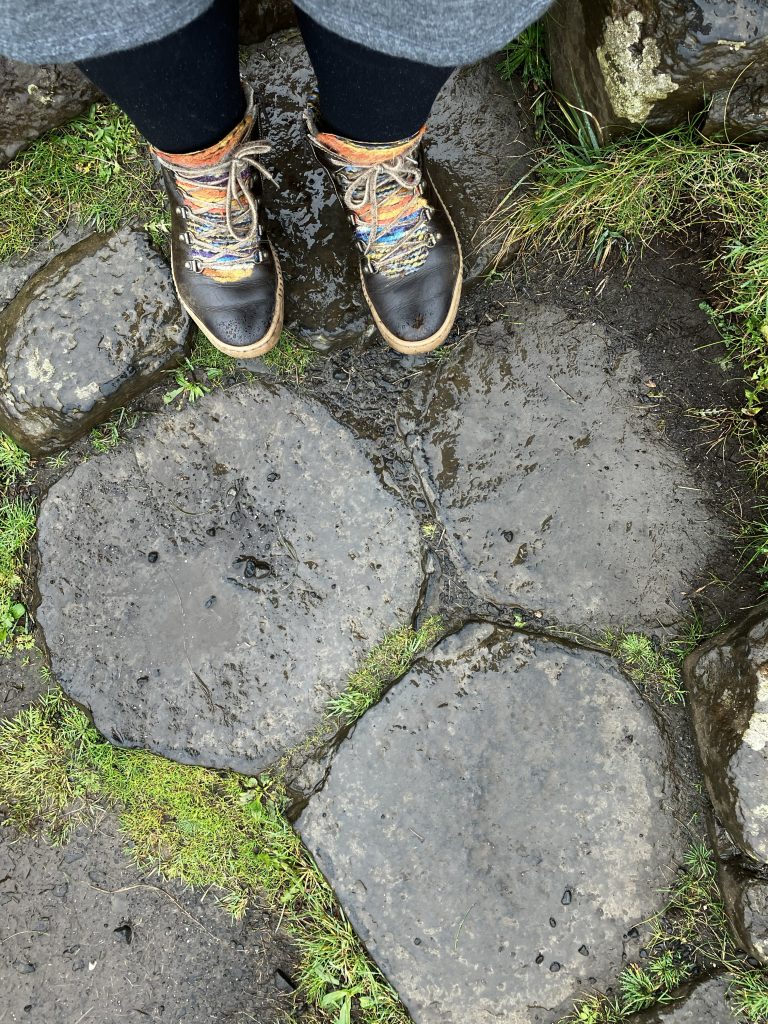 It's crazy, but the rocks are hexagonal.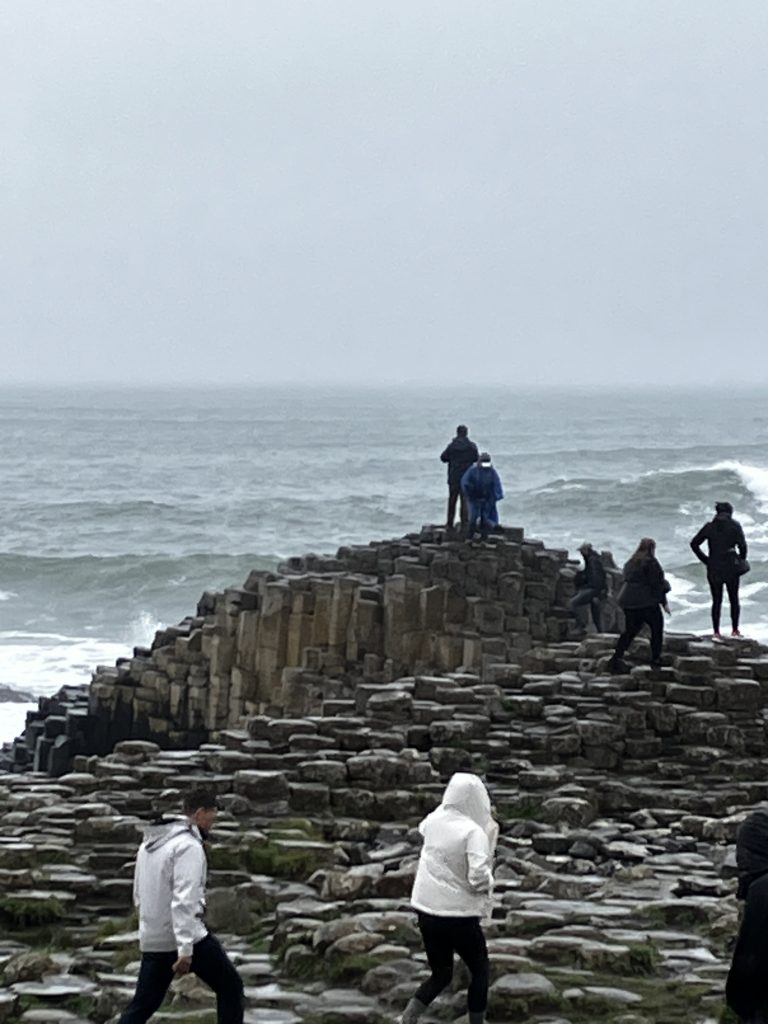 Despite the rain and the slippery rocks, people were doing their best Finn McCool impressions.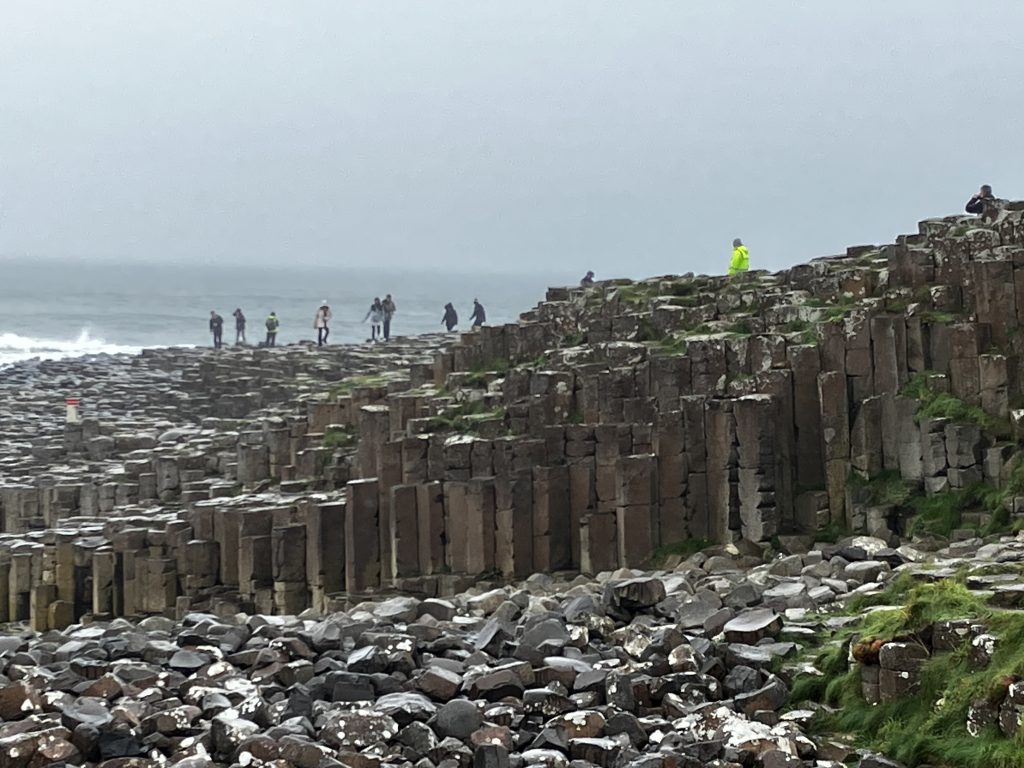 You can see here how the rocks have been thrust up from the earth. Imagine the forces big enough to accomplish this?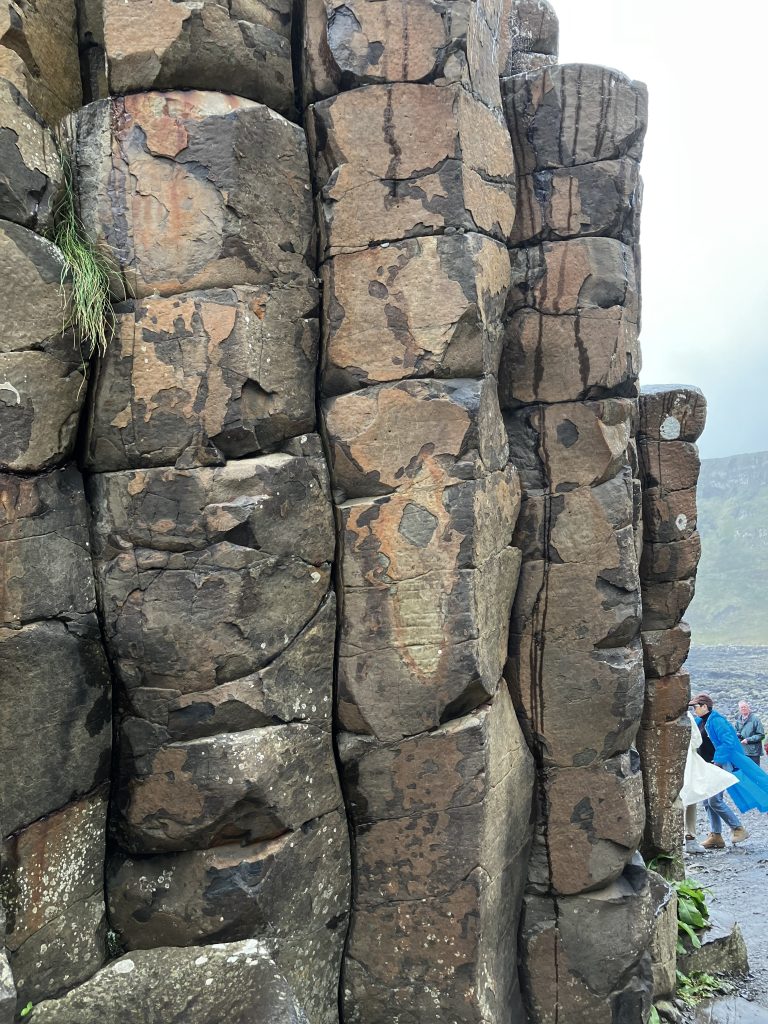 As I walked near the queue for the bus for the way up, I passed by Carol, who comes from Brisbane. She told me to make sure I went "around the back", so I dutifully followed where she pointed.
She wasn't wrong.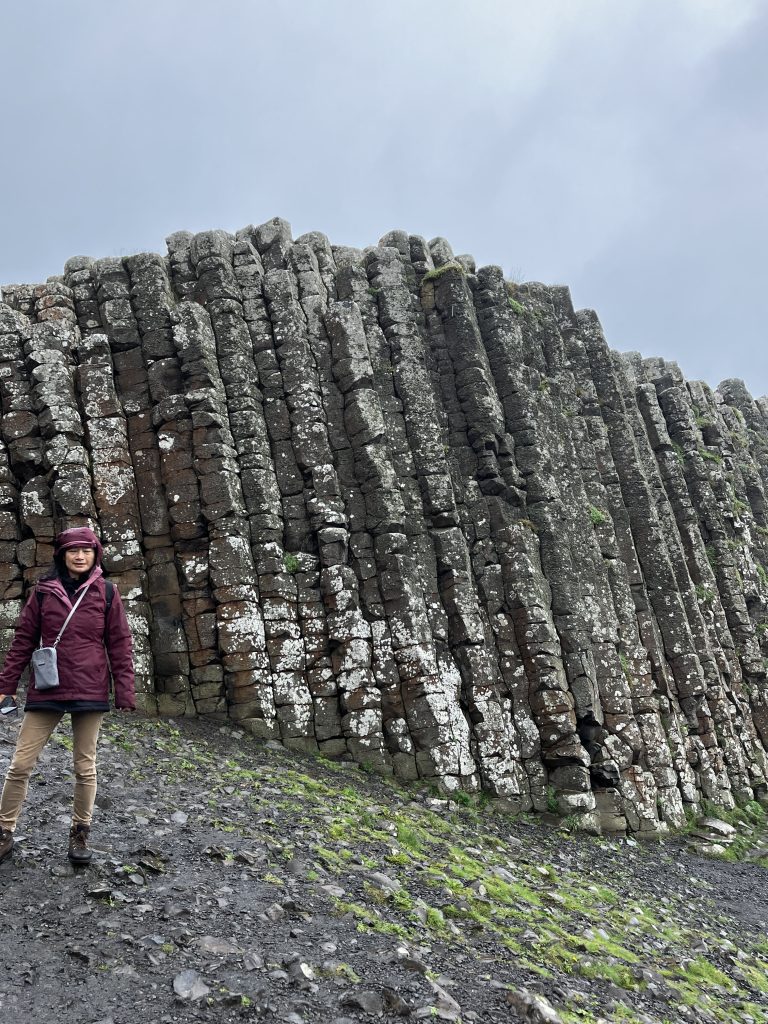 This is a random person here to give perspective as to how high this particular bit is. I love the lines throughout the rock.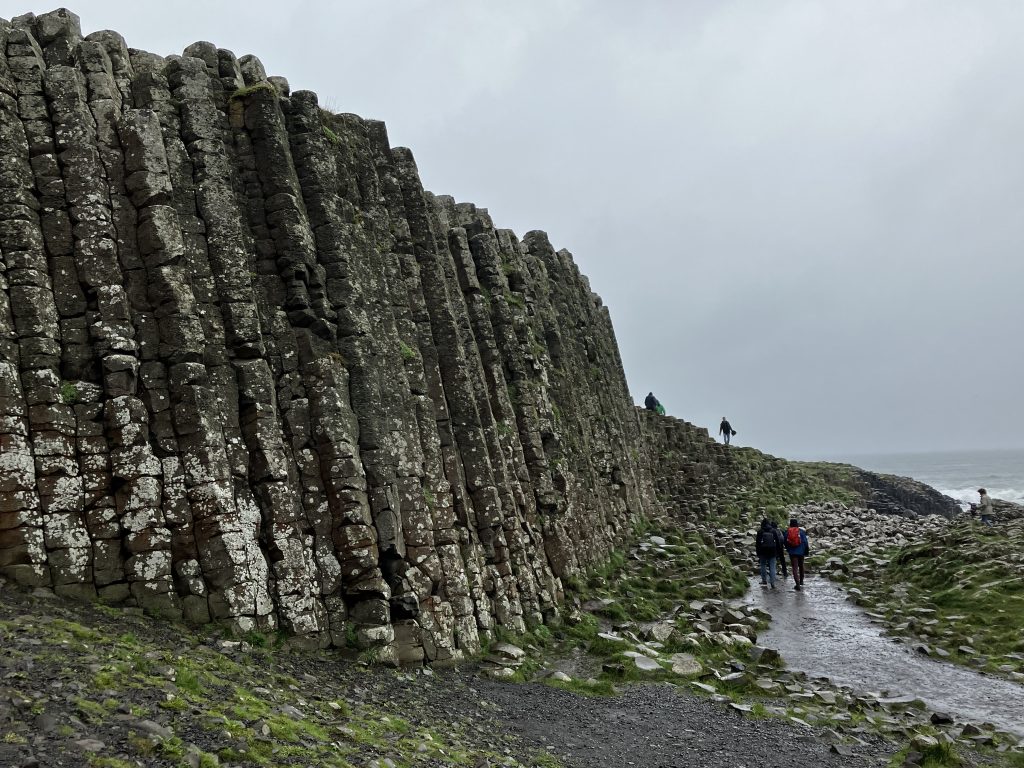 There were people climbing the rocks all over the place, but even though I'd consumed 3 whiskeys and therefore felt invincible, I had enough common sense to know that I should probably stick to unslippery level ground.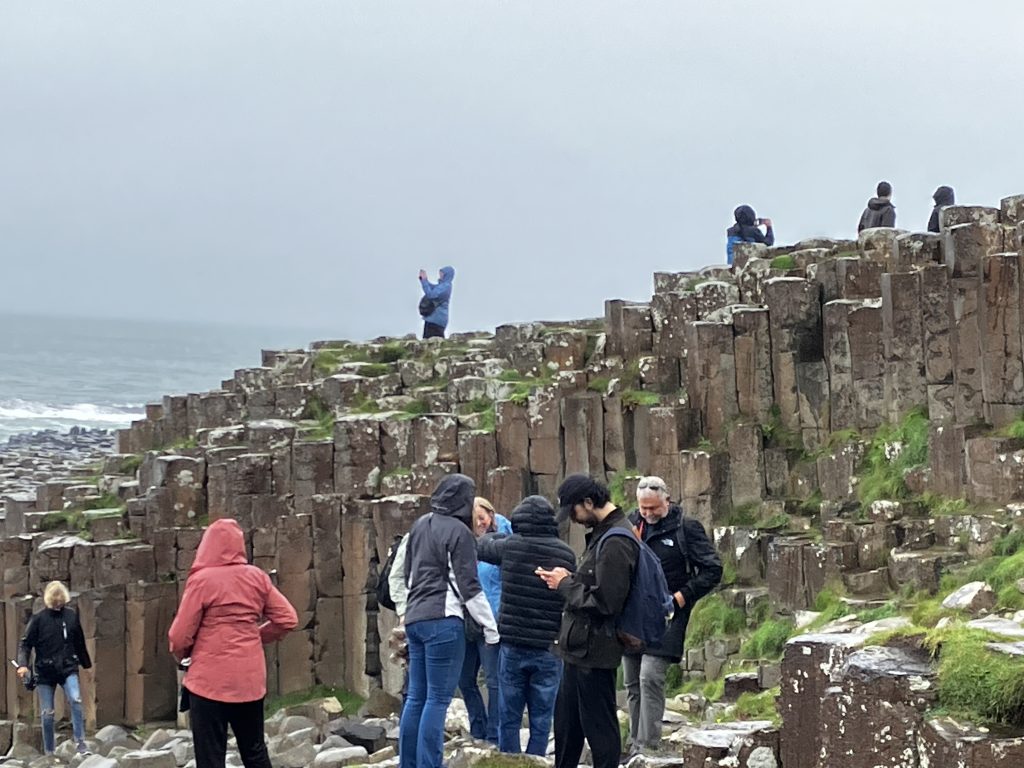 Another Carol, this one a kindred spirit from Northampton in England who is also travelling alone, said that she found herself clinging to the cliff face by her toes, thinking, " Carol, you're an idiot!"
She wasn't hyped up on Irish whiskey. She was the kind soul who gave me the bourbon one.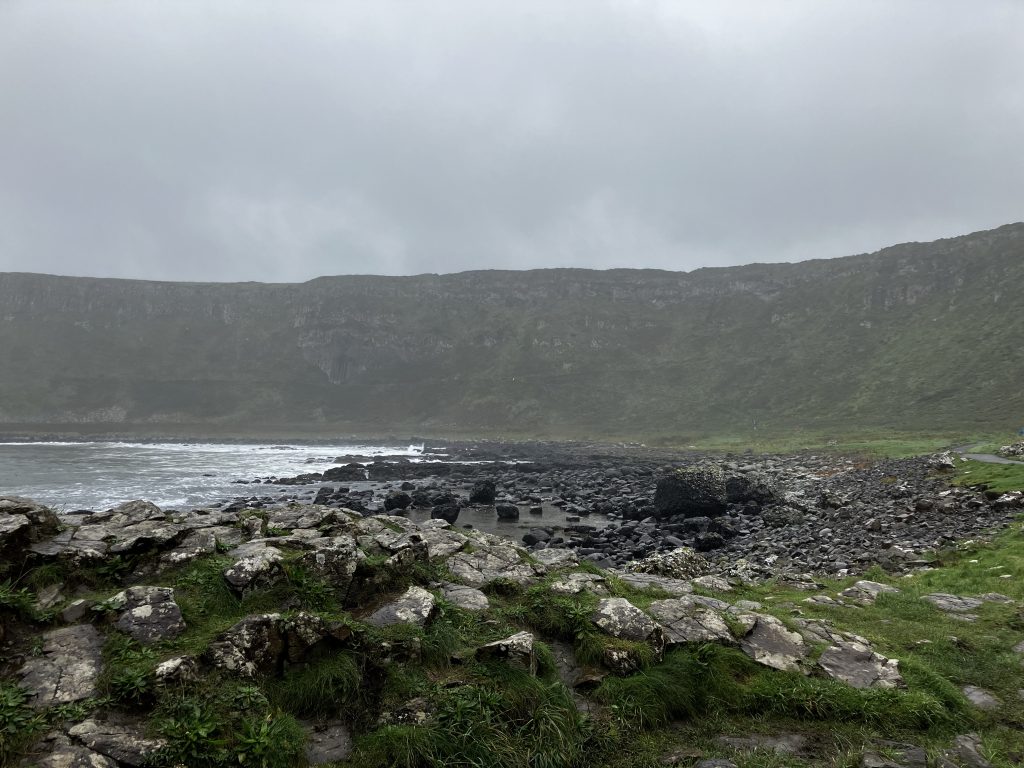 I stayed on this side of the causeway for quite a while. We had oodles of time… this tour is very relaxed.
I stood looking out at the ocean. The people seemed to disappear and the rain was irrelevant. ( Though I knew that my one dress, the unflattering grey sack, was getting very wet from where my Antarctica raincoat finished.)
The cliffs encircled me, the sea was rolling in and the area seemed timeless. It was a special moment that was only interrupted when a group of people asked me to take their photo.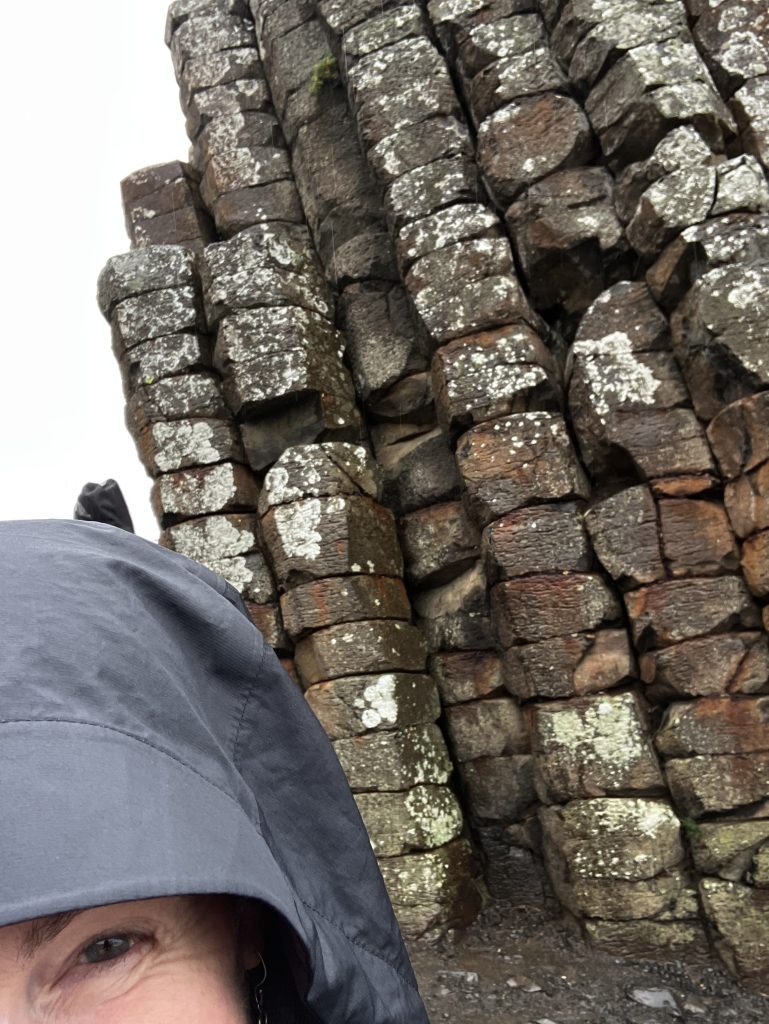 Just a selfie to prove I am really here!